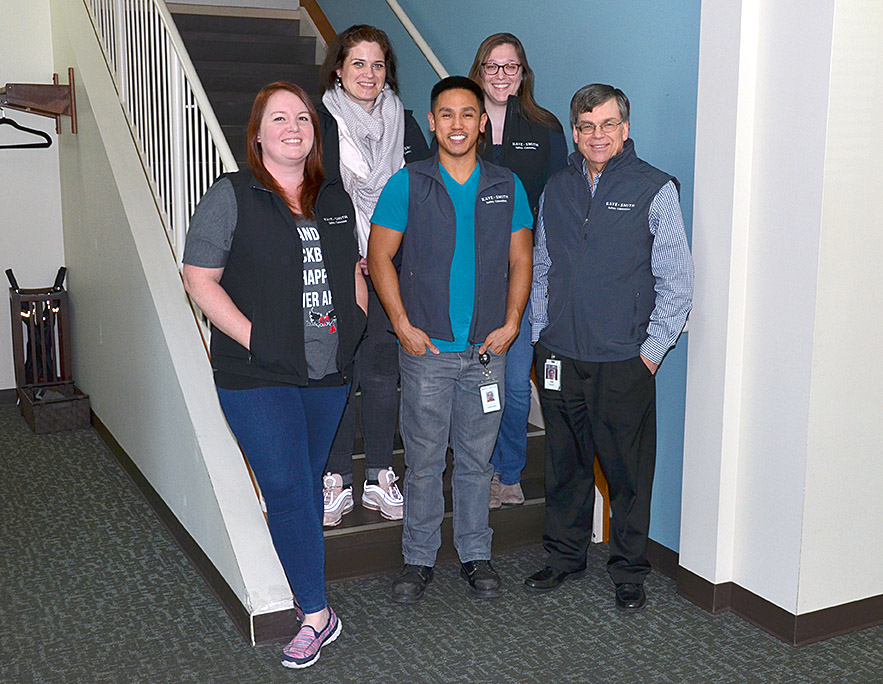 The Safety Committee at Kaye-Smith = a Safe + Healthy Work Environment
At Kaye-Smith, our Safety Committee is key to ensuring our employees and guests are in a safe environment. In fact, our company-wide safety mission is, "To create and maintain a safe and healthy working environment for all Kaye-Smith employees and guests."
To enact these, Kaye-Smith has put together a safety committee that rotates annually to allow all employees the opportunity to be a part of something larger than just their company role.
Who is part of the Safety Committee?
Our safety committee is comprised of a Safety Manager, Facility Managers, Safety Committee Administrative Assistant and four elected employees. Annually, new employees are elected to serve on the committee for the duration of the following year.
We try to make it fair and available to all employees at Kaye-Smith, so we keep guidelines on the terms served:
No employee may serve two consecutive terms
Employees unable to attend a meeting or unable to fulfill their term notifies their supervisor and the Safety Manager to request a replacement
What are the objectives of the Safety Committee at Kaye-Smith?
As the leaders in safety, our Safety Committee is dedicated to troubleshooting potential hazards, finding ways to reduce those hazards, and representing and communicating with coworkers about the meetings.
Additionally, the Safety Committee is responsible for revising and enforcing safety protocols, which means any changes must meet state, federal and company standards. This takes a lot of collaboration and time to ensure the standards are improving annually.
By recommending changes and providing additional safety measures, it is the goal of the Safety Committee to improve safety equipment and protective clothing while also reducing accident frequency.
Employees play a big role in this as well.
As a team member at Kaye-Smith, it's the job of the employees to help carry out changes and designations by the Safety Committee. All employees must:
Comply with state, federal and company-mandated safety protocols.
Accept additional duties as needed to help achieve the goals of the Safety Committee.
Recognize hazards and take the proper precautions or report hazards to supervisors.
Notify supervisors of equipment or clothing issues that need to be addressed.
Assist the Safety Committee in routine inspections of eyewash stations and fire extinguishers.
Actively participate and cooperate with the safety program put in place.
The Safety Committee is about more than just safety.
Bi-annually, the Safety Committee is also in charge of spearheading the Kaye-Smith blood drive. This traditional event is a true gift-giving opportunity for employees and is a big part of who we are at Kaye-Smith. During the blood drive, we are giving the gift of life to others.
With thirteen blood drives completed, the Safety Committee for 2020 will be planning our 14th annual blood drive for the holiday season later this year. While our priority is the safety of our employees and the people at Kaye-Smith, another priority is taking time from our busy lives to help others in need.
The Safety Committee at Kaye-Smith is a huge responsibility and one that helps keep our business operating at top performance with minimal safety issues throughout the year. We are proud to have a plan in place and designated employees to tackle this task.