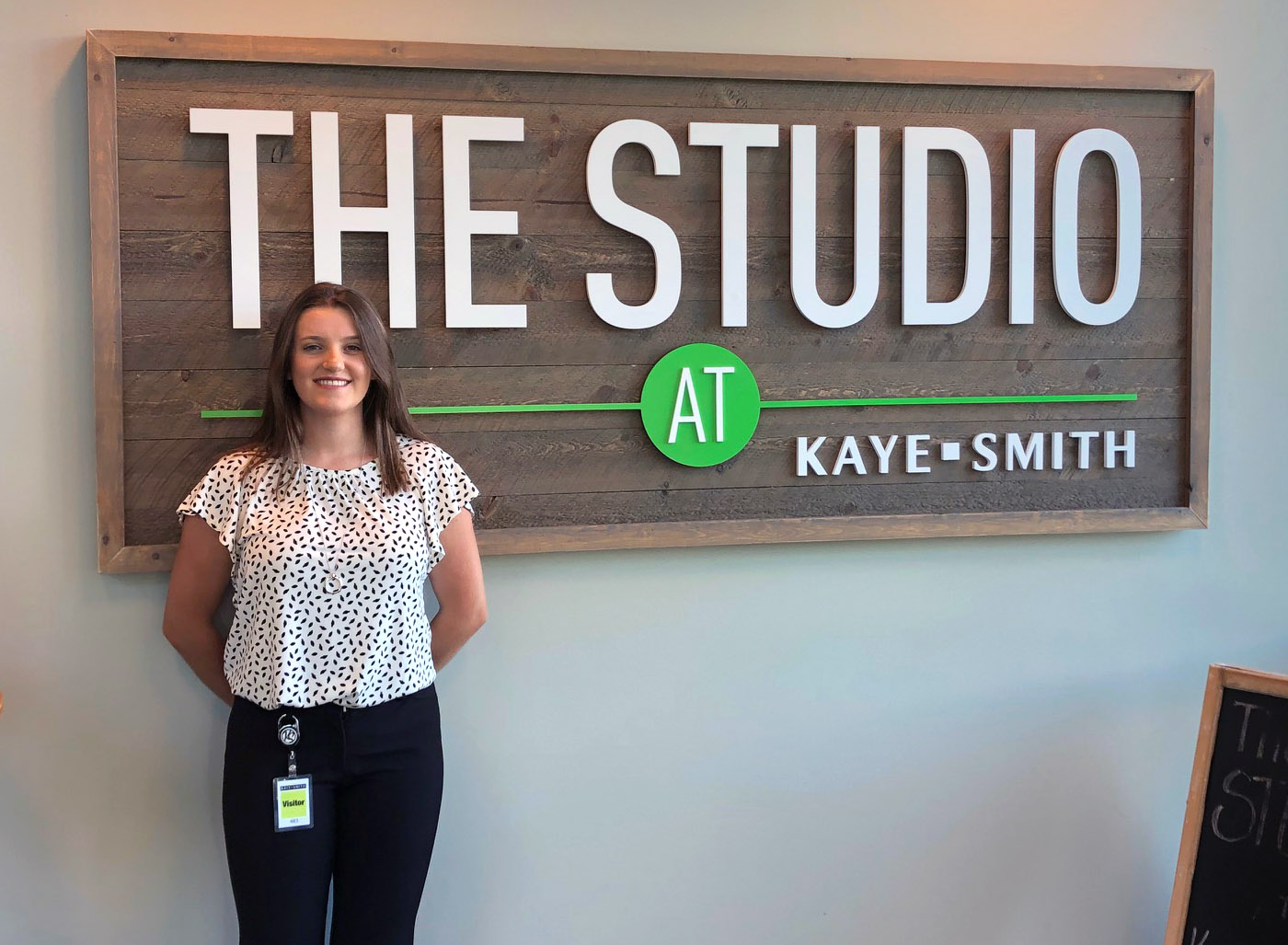 Student Job Shadow: A Day with our Creative Director, Patti Morisset
Kaye-Smith's Creative Director, Patti Morisset, had the opportunity to work with a local student for a day to show her the ropes to someday landing a prominent role as a branded merchandise sales executive or director.
The student, Keely Peddycord, is a junior at Gonzaga University. She is currently majoring in Business with a minor in Sociology and was curious as to what a "day-in-the-life of Patti" was like at Kaye-Smith. Keely received a complete experience by spending a full day with Patti as she oversaw a wide variety of activities.
A day with Patti Morisset
Keely's day began with a tour of an embroidery house, which was followed by a Brand Merchandise Production and Fulfillment meeting with Kaye-Smith's Lisa Wolf.
Shortly after, Keely received a tour of the Kaye-Smith warehouse before heading back to the Studio with Patti for a product line presentation offered by one of our apparel suppliers. Next, Patti and Keely headed offsite where they engaged in a product discussion with one of our clients.
Back in the office, they met with two sales team members who were deep into planning out their fourth quarters and closing some current orders. Before the day ended, Keely accompanied Patti to Bothell for a client's grand opening celebration.
"Keely was a great shadow," says Patti
Keely had "done her homework" and was knowledgeable on Kaye-Smith and its business endeavors. Patti commented further on how Keely "asked great questions and was engaged in the meetings." Working one-on-one with a current student was eye-opening and allowed Patti to really understand the path of current students looking to get into retail environments at the corporate level.
Keely is hoping to go into sales once she graduates from Gonzaga University. She has goals for holding down a retail position to gain valuable customer experience while in school. She is looking into local boutique shops that will give the face-to-face customer experience that she can build upon later as a full-time sales position post-graduation.
There is potential for students going into this field.
Patti's advice to students who are considering this field is to follow Keely's footsteps: connecting with local organizations. Find volunteer positions with associations, trade shows and events whenever possible. Take time to understand the current retail market and what is trending in promotional products, as this is a great resource for your clients. While going into promo products right out of school is rare, preparing for the field will put you ahead of the competition and make you better prepared for the role.
Don't be afraid to ask questions. Knowledge is powerful.
Patti commented on the importance of finding a mentor early on in your career: "Mentors help you work through difficult times and help you set goals and stay accountable to those goals. Take time to volunteer on a regular basis. You learn so much more when you are willing to put in the effort."