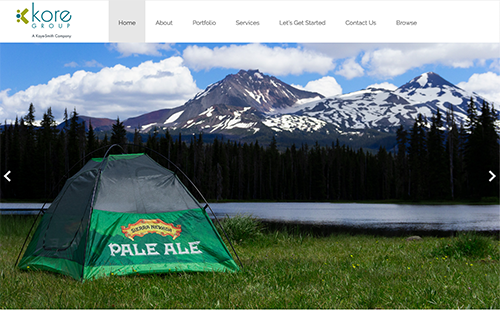 Kaye-Smith Celebrates One Year with Kore Group
Time flies, and we can't believe it's already been one year since we joined forces with Kore Group in Portland. We've accomplished so much together already and have plans for even more improvements as the partnership continues. We're happy to say that both companies have grown during the past year; Kaye-Smith by 50% and Kore Group by 30%.
Kore Group's office remains in Portland, Oregon, not far from Kaye-Smith's Portland facility. From the moment we met the Kore Group family, we knew our teams were a special match for each other as our company values are very similar. The family-owned values at Kaye-Smith are unique in our industry, and we felt right at home after meeting and working with the Kore Group team. They're a branded merchandise agency with a strong knack for design and innovation in what they deliver to clients. Their creative process is strong, and compliments well with our streamlined manufacturing processes. We knew we had a great future in store when we saw the way they worked together as a team with extreme dedication to delivering top-notch products and services to their clientele.
The partnership between the Kore Group and Kaye-Smith is an evolutionary one. Working together we are combining the Kore Group's agency attitude with Kaye-Smith's operational expertise, creating a branding powerhouse with awesome scalability.  Our vision is simple – build an amazing team and amaze our clients.
Moving forward, we have some lofty goals: consolidating many processes to a single operating system, implementing ISO9001-style quality control procedures, and expanding collaboration tools to more effectively share projects and ideas. Heavy investments are in the works to upgrade our online stores, supply chain technology and warehouse management systems. We have also aligned resources to assist in the speedy scoping, development, testing, and implementation of solutions.
With quality control at the forefront of concerns in the promotional products industry, the installation of these procedures on both sides of our partnership can help our image conscious clients rest assured that their brand is in highly capable hands. These days, many large corporations demand quality testing of promotional product lines – and we strive to remain leaders in providing socially responsible, ethically responsible and environmentally conscious products as a standard – not just an upgrade.
With so many projects on the horizon and upgrades in the works, we're certain the next year together will fly by just as fast and we look forward to coming out the other side of our early days together with many successes and an amazing team!